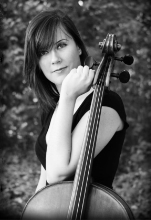 Susan Millar Boldissar holds a Bachelor of Music degree from the Oberlin Conservatory of Music, where she was recipient of both the Dean's Merit Award and the International Conservatory Student Award. She earned her Master of Music from Indiana University Jacobs School of Music, where she was recipient of the coveted Eva Heinitz Award, and served as Associate Instructor of Violoncello as well as Teaching Assistant to Professor Eric Kim. Susan received her pedagogical training for stringed instrument instruction through completion of the minor cognate string pedagogy program at Indiana University Jacobs School of Music.
 Ms. Boldissar was the founding director of the Mount Carmel Academy Chamber Orchestra and Instrumental Ensemble program and served as Instructor of Chamber Music for the Greater New Orleans Youth Orchestras. She has held the Instructor of Violoncello positions with the Young Artist's Academy, the Endangered Instrument Project, as well as Louisiana Academy of Performing Arts, all whilst maintaining a private teaching studio. In addition to her classical foundation, Ms. Boldissar boasts a mastery of improvisational music, use of looping and effects pedals, performance on the Morin Khuur (Mongolian Cello), extended and experimental techniques, and has used her ability to compose and arrange music fitting the unique specifics of instrumentation in her teaching.
Susan has performed across the United States and Canada as a soloist, chamber musician and orchestral cellist. Performances include the Bach Around the Clock festival in New Orleans, the faculty guest recital series at the Oberlin Conservatory of Music, chamber music performances in the San Francisco Bay area, Instant Opus improvised music series with musicians such as Lori Goldston (of the band, Nirvana), in New Orleans. Solo performances with orchestra include performances with the National Academy Orchestra, as Susan was the winner of the NAO concerto competition in 2008. Ms. Boldissar has performed as section cellist in many orchestras including the Memphis Symphony Orchestra, the Arkansas Symphony Orchestra, and the Louisiana Philharmonic Orchestra, and was principal cellist of the Columbus Indiana Philharmonic.
At YAPCA, Ms. Millar Boldissar serves as co-director, orchestra conductor, arranger, and cello faculty member.